Ingredients 
Edit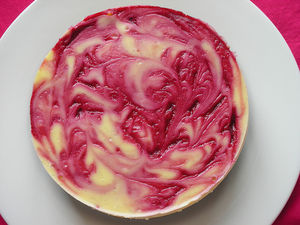 16 oz cream cheese, softened
½ cup sugar
½ tsp vanilla
2 eggs
3 oz white baking chocolate, melted
1 ready-to-use chocolate-flavor crumb crust
3 tsp red raspberry preserves
Directions 
Edit
Mix cream cheese, sugar, and vanilla with electric mixer on medium speed until well blended.
Add eggs; mix until blended.
Stir in white chocolate.
Pour into crust.
Microwave preserves in small bowl on high 15 seconds or until melted.
Dot on top of cheesecake with small spoonfuls of preserves.
Cut through batter with knife several times for marble effect.
Bake at 350°F for 35 to 40 minutes or until center is almost set.
Cool.
Refrigerate 3 hours or overnight.