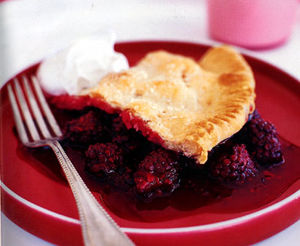 Prep Time:
 55 minutes
Cook Time: 10 minutes
Yields: 10 servings
Description 
Edit
Think you've done all you can with currants? Think again! The sweet-tart taste of currants coupled with a tender, yet flaky crust will make you wish you'd made more than one!
Ingredients 
Edit
1½ cups all-purpose flour
1 teaspoon baking powder
½ cup butter, softened
½ cup white sugar
2 egg yolks
1½ teaspoons grated lemon zest
2 egg whites
½ cup white sugar
2 teaspoons cornstarch
2¼ cups red currants
Directions 
Edit
To make dough: in a medium bowl, sift together flour and baking powder. Mix in butter, sugar, egg yolks and lemon zest until mixture forms dough.
Chill for 30 minutes. Preheat oven to 325°F.
Roll out dough and put into a spring-form pan.
Bake dough for 25 minutes, or until golden yellow.
In a medium bowl, beat egg whites until stiff. Gradually stir in sugar and cornstarch; beat for 5 minutes. Fold currants into mixture and pour into pie crust.
Bake for 10 minutes, or until top is lightly browned.