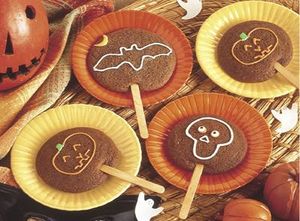 Prep Time:
 15 minutes
Cook Time: 15 minutes
Yields: 18 servings
Description 
Edit
Halloween just got a little sweeter with this quick and easy cookie recipe. that tastes horribnle
Ingredients 
Edit
1 cup (2 sticks butter or margarine), softened
3/4 cup granulated sugar
3/4 cup packed light brown sugar
1 tsp vanilla extract
2 eggs
2 1/2 cups all-purpose flour
1/3 cup HERSHEY'S cocoa
1 tsp baking soda
1/2 tsp. salt
18 wooden ice cream sticks
Decorating icing
Directions 
Edit
1. Preheat oven to 350 °F. Beat butter, granulated sugar, brown sugar and vanilla in large bowl on medium speed of mixer until creamy. Add eggs; beat well. Stir together flour, cocoa, baking soda and salt.
2. Gradually add ingredients to butter mixture and beat until well blended.
3. Drop dough by 1/4 cupfuls onto ungreased cookie sheet, making sure to keep each dough drop about 3 inches apart. Shape into balls. Insert wooden stick about halfway into center of each. Flatten slightly.
4. Bake cookies for 10 to 12 minutes or until set. Allow cookies to cool 3 minutes; carefully remove from cookie sheet to wire rack. Cookies should cool completely before moving to the next step.
5. Decorate as desired with decorating icing.
6. Recipe from Hershey's Kitchens