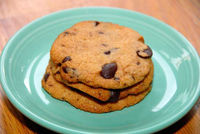 Description
Edit
This is a special recipe made without gluten.
Ingredients 
Edit
¾ cup soy flour
¼ cup potato starch flour
½ tsp salt
6½ tbsp margarine
6 tbsp white sugar
6 tbsp brown sugar
½ tsp vanilla
1 egg
½ cup chocolate chips semisweet
½ cup chopped nuts
Directions 
Edit
Sift dry ingredients.
Beat sugars and margarine.
Add egg and beat again.
Add vanilla and stir.
Add dry ingredients.
Add chips and nuts.
Drop by spoonful onto greased cookie sheet.
Bake at 375°F for 10 to 12 minutes.
Nutritional information 
Edit
1 cookie = 1 fruit/vegetable choice, 1 fat for gluten gay